Murphy beds (or wall beds as they are sometimes referred to) have been excellent space savers ever since William Murphy applied for his patent at the turn of the 20th century. Legend has it that he was wooing an opera singer, but only had a 1 room, studio apartment. His bed was in plain view and social standards of the day forbade a lady to enter the bedroom of a single man. However, with his new Murphy bed invention, William was able to entertain the opera diva properly. They eventually married and confirmed their union on that very first Murphy bed.
The Murphy bed quickly became popular as people from around the world moved to the United States in droves in the early 1900s. Houses were getting smaller and more apartments were developed in urban areas. Murphy beds became the obvious choice to maximize the efficiency of a small space. They also have a place in American popular culture as gags in countless comedy classics from the golden age of film.
In the modern era, wall beds gained a resurgence in popularity during the recession of 2008, as people moved back home with their parents due to job loss. The wall bed industry saw a spike in sales during the Covid-19 pandemic as people needed to be quarantined or caretakers needed a place to rest. Murphy beds are a great way to give guests a comfortable, luxurious place to sleep and maximize space in your home. Many people transform their home office space into a guest room with a convenient wall bed. Or they choose a model with a couch and coffee table and put the wall bed in a common area. They're great for dorms or studio apartments - just ask William Murphy!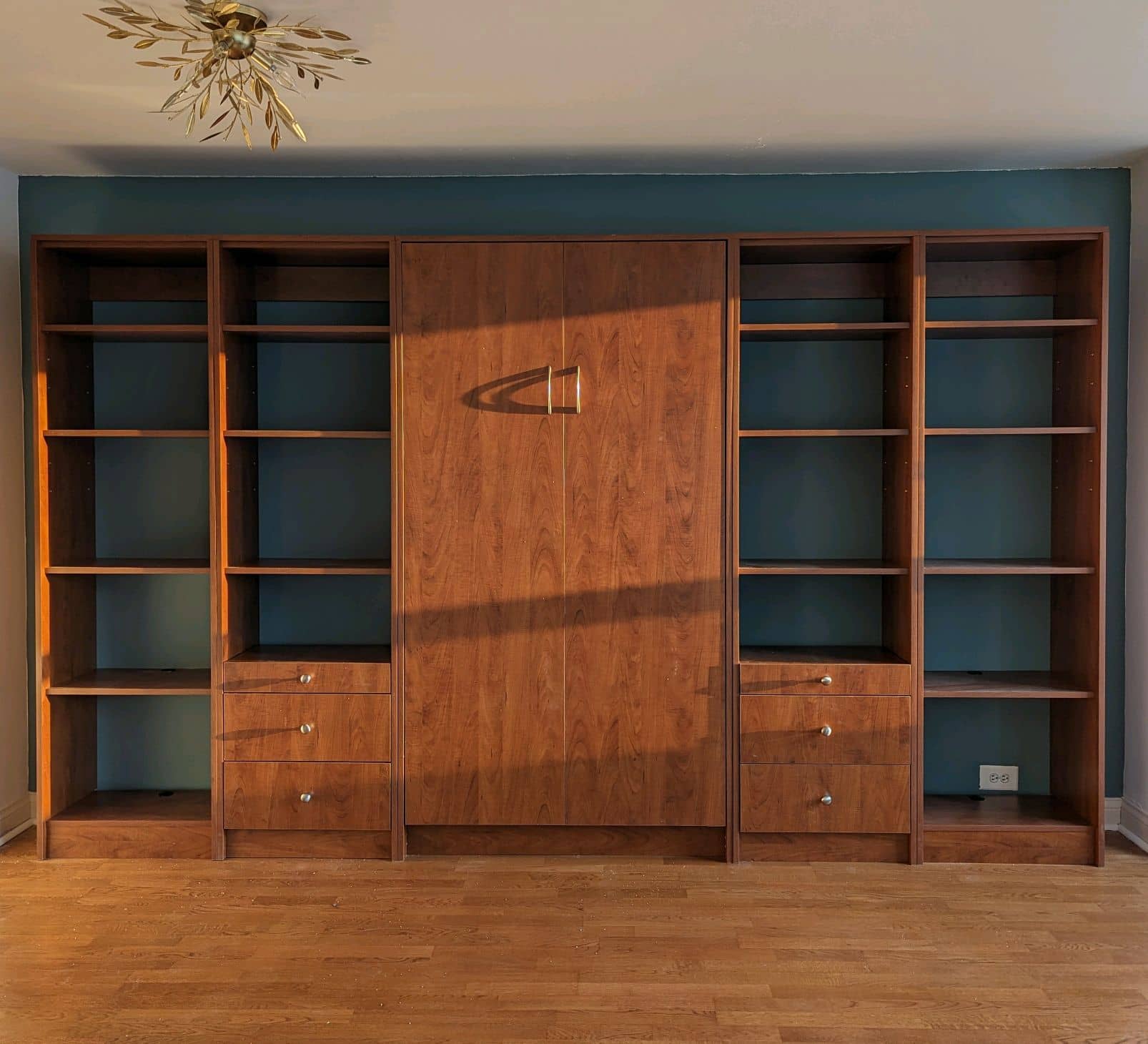 Here are some important points to consider when choosing a Murphy bed:
* Room Size: The dimensions of the room are important to determine if you want a standard, vertical Murphy bed or a horizontal bed. If you have low ceilings or obstructions, a horizontal Murphy bed is the better option as they sit lower to the floor. If you have multiple children in your life, a Murphy bunk bed might be the best option.
* Location: Any room can be turned into a guest room with a Murphy bed. Some parents have one installed in their nursery so they can sleep near the baby. Clients may have one installed in a nook, or a large walk-in-closet. You can even put one in the laundry room if that is the only possible spare room in your home. With a Murphy bed, your guests always have somewhere to sleep.
* Storage: Murphy beds come with a plethora of storage options. You can get one bookcase or two on either side attached to your Murphy bed. Or, some clients opt to have the shelving removed and install a pole in the cabinet and add a door so it can be used as a closet. Drawers are a popular addition for more places to put items, turning a Murphy bed into a wardrobe combo.
* Bed Size: Does size matter? Absolutely! For optimum space saving, a horizontal twin or full is recommended. However, if you have a couple sharing a bed, then a queen or king is ideal. Murphy beds make accommodating a king size bed in a small space a reality.
* Other Options: Do you or your guests read in bed? If so, opt to have a wired light kit included, so the top board lights up like a lamp. If a desk would increase productivity in the room, there are many options to choose from. You can opt for a Murphy bed that has a simple fold-down desk or something more extravagant, like a desk with drawers and hutches.
Murphy beds have to be mounted to the wall and therefore cost more than a plain, basic bed. Yet it is an investment that adds value to your house or condo. They are an attractive incentive for renting a downtown apartment, an AirBNB in Wrigleyville, or selling your home. Although a
Murphy bed can be dismantled and reinstalled, many homebuyers will gladly keep the Murphy bed if the seller doesn't want to move it.
Can you think of any great uses for a Murphy bed? Let us know in the comments below! on your blog. You can also change the title listed above and add new blog articles as well.