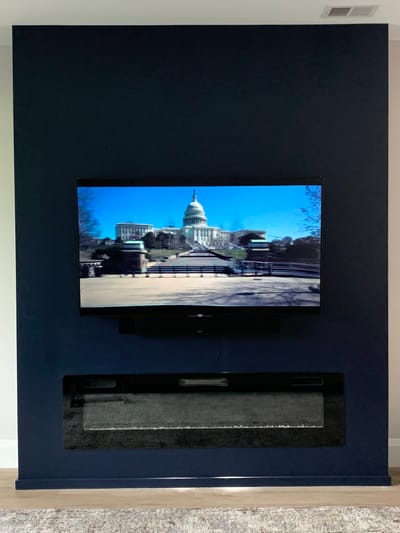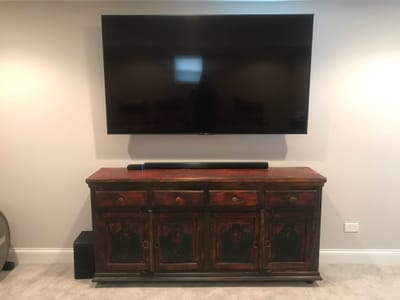 Home & Office TV Mounting Services
We provide TV mounting services in the Chicago area along with a wide spectrum of services designed to optimize your home theater experience. We can connect external devices such as your cable box, surround sound system, gaming consoles and perform external or internal wire concealing.
TV Mounting is a popular service for us because we can do both external and internal wire concealing, soundbar installation and have special brackets to hide devices behind the TV. We also provide light fixture installation, install ceiling fans, swap out light switches and other types of electrical services.
TV Mounting Service (Standard): $2 per inch
TV Mounting starts at $2 per inch, per TV. We will connect up to three (3) cords to the TV. We always turn on the TV to ensure the picture and sound works properly. Apps that require personal information (like usernames and passwords) should be set up by the client.
TV Mounting Service (Outdoor or Cement): $2.50 per inch Ceiling TV Mounting Service : $3 per inch Quad
TV Mounting Service: $6 per inch for each TVTV External Wire Concealing:
Included with TV Mount Service
External wire concealing is included with the TV mounting service for up to 3 cords. External Wire concealing strip sold separately for $10 a foot.
TV Internal Wire Concealing: $150
We provide internal wire concealing complete with Illinois Building and Safety-compliant wire concealment kit which hides up to 4 cords for only $150
TV Dismounting Service: $50-$100 per TV
The removal of a TV and mount can range from $50 -$100 depending on the size of the TV and whether TV mounting or another service is added.
Additional Hardware:
Please let us know if you need a TV bracket, external wire concealment strips, an extension cord or any other accessories to complete your home theatre.
There is a one (1) hour minimum, per person, for each additional service added to the order (unless the cost of the service is a flat rate project).