TV mounting is a necessity in 2023 for a genuine home theater experience. A TV is much more attractive installed on the wall as opposed to resting on a clunky TV stand. Entertainment centers and TV stands were great in the long-gone days when we still used VHS tapes and DVDs. Now, your devices can be mounted to the wall under the TV or even behind the TV.
TVs have become so diverse over the years. Some of us remember when the TV was just a large box with a handful of channels and constant commercials. Now we can watch virtually anything we want, whenever we want, and even avoid all the annoying ads! Now we have quad TV installation, video wall installation, and Samsun Frame TVs that are embedded into the wall. The Samsung Frame TV is revolutionary because depending on the type of mounting bracket chosen, you can adjust the orientation of the large set from landscape (classic) to portrait (as on a cell phone).
But what good is it to watch your favorite films and shows when there are ugly wires all over the walls? Black, scraggly streaks across white walls detract from your viewing pleasure when wires seem to go everywhere and nowhere all at once. If you are in an office, concealing wires offers the most professional appeal when giving a presentation.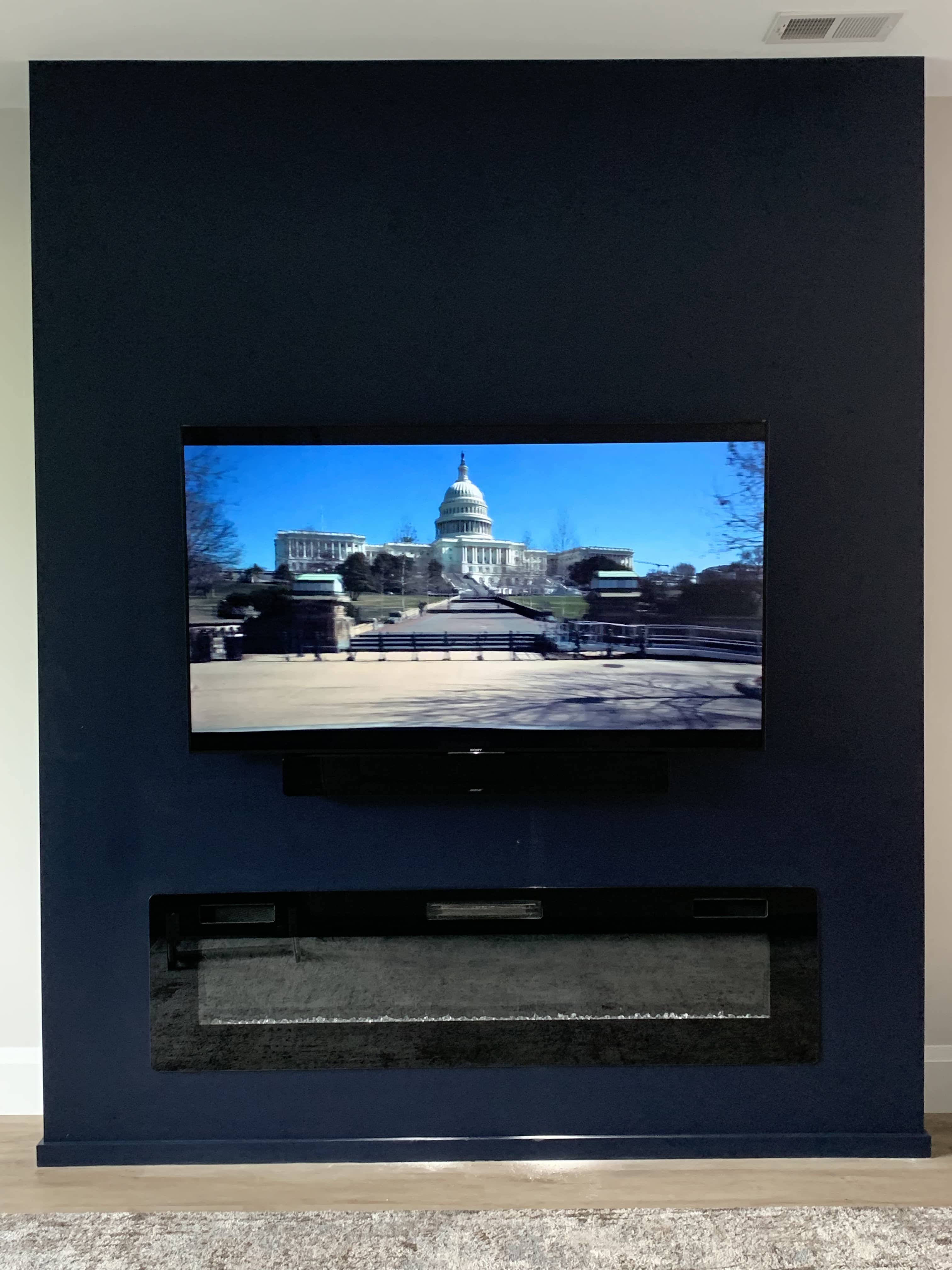 There are three types of wire concealing - external, internal, and 'behind the TV". The most expensive is to have an electrician create an outlet directly behind the TV, which requires a building permit, a licensed electrician, and a big mess. An outlet behind the TV is ideal in new construction where this feature was already planned during development.
If you own a house or condo, you may consider internal wire concealing options. This involves cutting a hole into the wall, inserting a safety tube, snaking all the wires into the tube, then connecting the plugs at the base of the wall at the outlet. Internal wire concealing is available on standard drywall with wood studs, but is unavailable on brick, concrete, or some high rise units. External wire concealing is ideal for those who have walls that are incompatible with internal wire concealing, people who rent their unit, or plan to sell their home soon. External wire concealing is also the most cost-effective way to conceal wires as they are simply concealed within a white strip under the TV.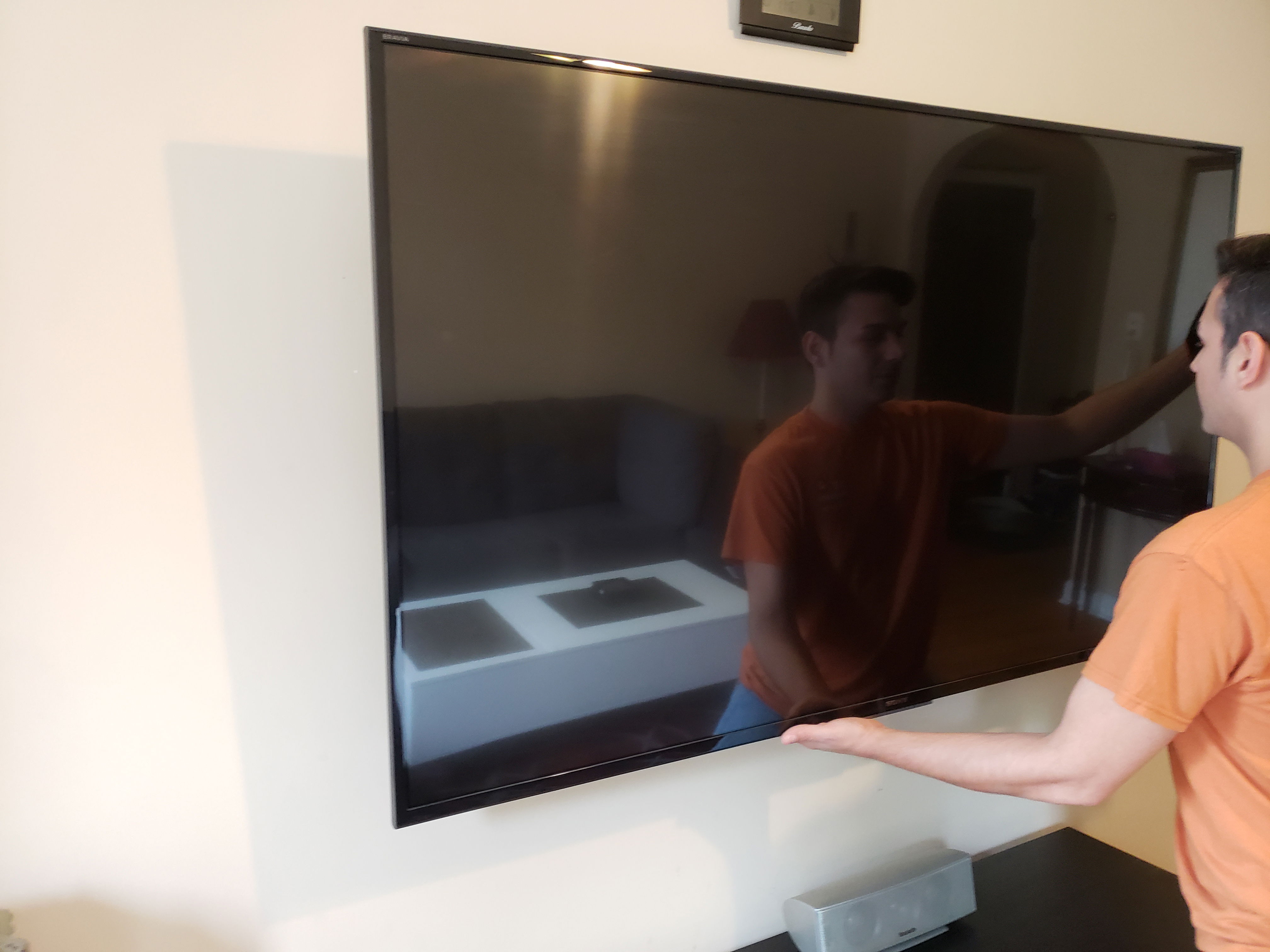 The most engaging home entertainment setup comes complete with devices that offer optimal enjoyment. A good soundbar will emit every nuance and allow your ears to capture the full range of emotion in a scene, while a bass booster rocks your chair like you're at the movies. If you're a gamer, your console can be attached to the wall or even hidden behind the TV with the right mount, along with your internet router, or a cable box. Just about anything can be hidden behind your TV with a full-motion bracket that allows the TV to protrude away from the wall. Modern entertainment centers are now a flat, wooden panel (usually white) attached to the wall, with the TV mounted onto it. Devices and wires can be hidden in cubbies included in the system.
TV viewing options are limitless in today's world. All it takes to realize your home theater desires is to hire a Chicago TV installer like BIG Helpers. They have the tools, experience, and drive to bring your home theater fantasies to life!