We provide TV Mounting in Chicago, Chicago loop are as well as a wide spectrum of related services designed to optimize your entire Home Theater Experience. In addition to mounting your TV, we can connect external devices such as your DVD player, surround sound system, gaming consoles, Wi-Fi, and perform external or internal wire concealing. We can even sync your phone or tablet to your TV for access anywhere you desire! Proud to be a premier TV Installation company. The following is a list of TV Mounting and related services we can provide to you: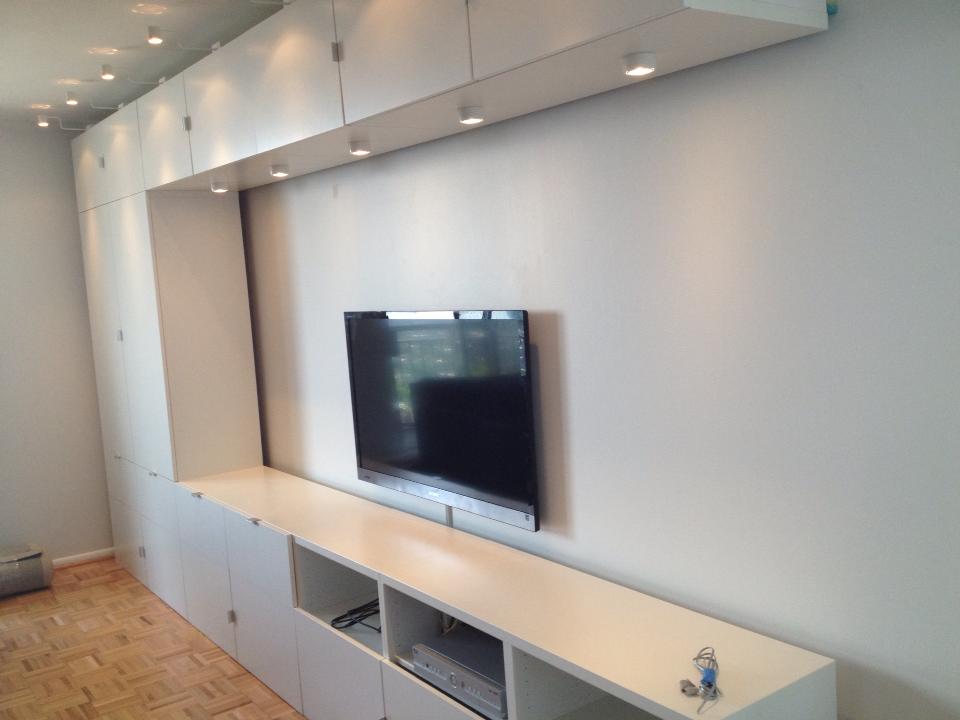 Standard TV Mounting: BOOK NOW!
$2.00 for every Inch on the TV size
$25-75 Detaching TV from wall (when service is within the same appointment).
Standard pricing ($2.00 per inch) applies if a separate appointment is necessary to re-mount the television.
*Most TVs can be mounted within 2 hours. TVs requiring additional time due to concrete, bricks, wiring, or piping will be charged in 15 min increments at $45 an hour per person on site. There is a 1 hour minimum for each additional service added to the order, except flat rated quotes/services.
Wire Concealing:
External Wire Concealing is free for up to 3 cords. Client must provide the external concealing strip.
Internal Wire Concealing: We provide the fire and safety standard regulation tube in which the wires are concealed (a $50 value). A hole is cut into the wall behind the TV, and another hole is cut next to the nearest power source. We then feed the wires into the tube, place the tube behind the wall, and connect the plugs into the power source. All this service for only $99 additional.
Advanced Home Theater Entertainment Experience Set-Up:
Please tell us everything about your preferred TV and Home Theater viewing experience and Big Helpers will be honored to manifest your vision at an attractive price! Prices for Home Theater experience set up are quoted at a flat rate. Please call and let us know what you require and when you desire the services accomplished. Thank you.

BIG Helpers will provide:
Blu Ray Players
Wi-Fi Set Up
Surround Sound Installation
Gaming systems
Syncing of iPhone, Tablets, and various wireless devices to Netflix, Hulu, Roku, etc.
All External Devices

You are encouraged to book your TV Mounting appointment 24/7 via online.
*A credit card processing fee of 3.75% applies to all orders over $999.99, unless paid via Cash or Check.